We must thankGod for the warm and sunny weather. Because it seems that no meter of the Italian Baja track will be canceled, despite heavy rains suffered in May and the mountain'ssnow thawing. The considerable flood of the Meduna, Cosa and Tagliamento riverbeds, observed during last weeks, seems to be reduced now, keeping the usual levels. The natural scenery of the race, valid for the FIA World Cup for Cross Country Bajas, is ready to become the set of another historical show from Friday, June 21stto Sunday, June 23rd. 
GRAN FIUME. The 26theditionhas been presented yesterday by theshopping centre inFiume Veneto, revealing its over 400 km track, adding up the prologue faced on Friday ("Murlis") with the Selective Sections on Saturday and Sunday in the opposite direction ("Barbeano" and "Gradisca"). The challenge will start form Zoppola to reach Cordenons, then going on from Spilimbergo to San Giorgio della Richinvelda, San Martino al Tagliamento, Valvasone-Arzene, San Vito and Morsano al Tagliamento, going then back up along the left riverbank from Codroipo to Sedegliano, Flaibano and Dignano. 
PARADES. As it deals on a sport eventable to promote its Land, the Italian Baja planned to propose in Lignano Pineta the ceremony for defining the starting grid positions of the first Leg (piazzale Bar Tenda, on Friday at 9.30pm), in Fiume Veneto by the shopping centre the passage control (on Saturday 22ndat 7.10pm), in Brugnera the presentation of the whole convoy, in piazza del Mercato in Maron (on Saturday 22ndat 7.30pm). Lastly, on Sunday 23rdthe Prize Giving Ceremony at the Pordenone Fair as by the Formula 1 style (from 2.30pm to 5pm) . 
CODECA'. Nine victories and still looking forward to next challenge, the Italian champion in charge Lorenzo Codecà yesterday homaged the presentation of the Italian Baja parking his Suzuki Grand Vitara just at the side of the authorities' table. "It will be a hard fight against foreign experts – affirmed – but we will do our outmost in the Italian challenge". 
VENTURA.Last year in the World Cup there was just 2 of them, this year there are 16 T3 tubulars ready to battle. The show is guaranteed, with a threat to the historical leadership of T1 prototypes. This is the Eve of the young wonder Amerigo Ventura: "The Italian Baja is a wide card, we will try not to make mistakes".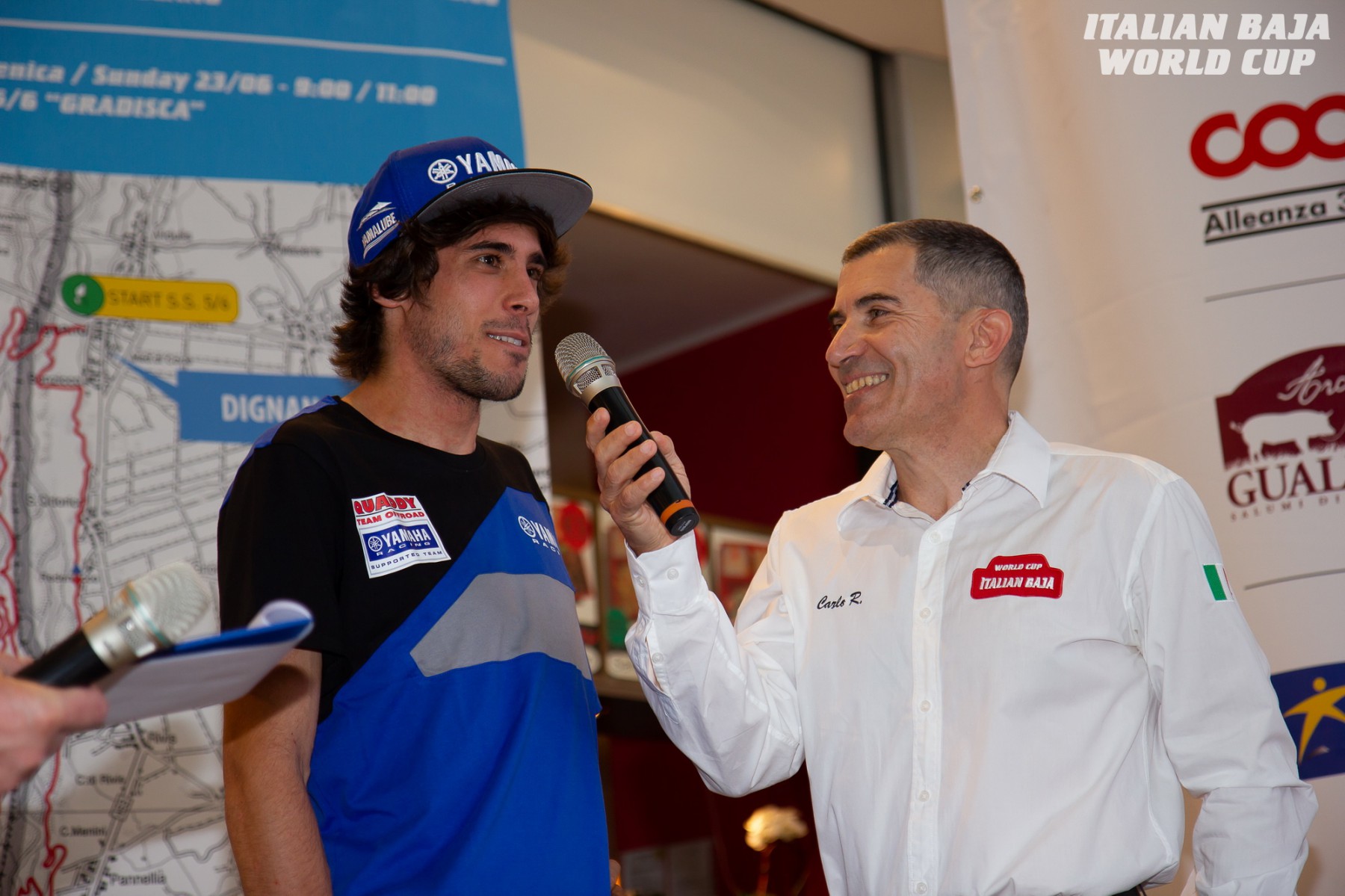 REGION. Special Guest at theGran Fiume shopping centre, the Region council member Tiziana Gibelli. "Sport and culture, if expressed through important events, are able not just to raise emotions, but also to contribute in increasing the gross national Product of the region Friuli Venezia Giulia. This is what the Italian Baja does, to create a great resource for the region".